Our church property was first purchased in 1956.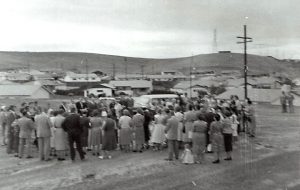 "Wayside Methodist" was chosen as our name in 1957.  There were 92 charter members of our new church.
Our first infant, Vivian McNunn, was baptized on July 21, 1957.
Our first marriage was performed on August 19, 1961, by Reverend Donihue.
Our current pastor, Rev. Rey Letana, came to Wayside in 2018.
Our Wayside mission has been, from our founding, to "Make disciples of Jesus Christ for the  transformation of the world."  From the pulpit worshipers will often hear our core message:  Wayside Cares:
C…for connect to God
A…for align people in small groups
R…for recognize gifts for ministry
E…for extend helping hand to the world
S…for serve the community